This bit of news from People.com, brought back memories of Grade School and High School. I just had to laugh out loud as I remembered how I went ga-ga over Jordan Knight. Yes, I am not ashamed to admit it, I loved NKOTB. I have the concert ticket stub to prove it. Wahahaa!
New Kids On The Block Stage Comeback
Originally posted Saturday January 26, 2008 02:00 PM EST
Photo by: Neal Preston / CORBIS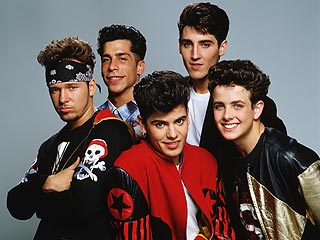 After months of speculation and rumor, the Kids are coming back. A well-placed source tells PEOPLE exclusively that New Kids On The Block are indeed getting back together.
The band's Web site,
www.nkotb.com
, which had been dormant, is now back up and running in anticipation of the official announcement, which the source says will be made in the next few weeks.
The site currently features a television graphic with a fuzzy, flickering photos of NKOTB in their heyday, and a link inviting fans to sign up for info.
The boy band, which made legions of tweens swoon in the early '90s, selling more than 50 million albums, became a worldwide phenomenon before calling it quits in 1994.
Eighteen years later, they're still "Hangin' Tough." The oldest "Kid," Jonathan Knight, now a real estate developer, will turn 40 later this year. Since the band's demise, former members Donnie Wahlberg, 38, and Joey McIntyre, 35, have seen acting success, while Danny Wood, 38, has worked as a music producer and Knight's brother, Jordan, 37, has continued to record.