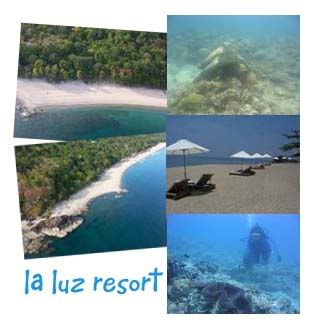 Company outing this Friday. Woohoo!!! Something great to look forward to. :)

I've been on beach/outing mode since the last week of February, when it started getting hotter and I am excited, to say the least. :D

This year we're going to La Luz Resort in San Juan, Batangas. I've never been there so I checked out the resort's website and here are some of the pictures I found. Oh, lest I forget and be sued for copyright infringement, the pictures were taken by eppgarcia. Hehehe... I don't know who he is, but I wanted to give him credit, after all, he took these pictures, I just put them together on photoshop. :)

I hope the place looks as good as it does in the pictures.

I found out that aside from the usual swimming, guests at the resort can go snorkeling, diving, boating and kayaking for a minimal fee. Guests can also have massages by the beach or go hiking at Mt. Dagulgol, where Naambon Falls and the Peak are the highlights of the trek. Wow! Excited na talaga ako. :D Pero sana next year, Punta Fuego uli. hahaha!

---------------------
Formula 1 season officially started yesterday with the Foster's Australian Grand Prix at Albert Park, Melbourne, Australia. There were new rules implemented, which either made the race more exciting or boring, depending on one's views. Though it certainly made the race depend more on the driver's skills, than on the car their driving.

Aside from the new rules (e.g. no simultaneous fuel and tire change pitstops), there are new drivers, new team owners, new team driver pairings and new qualifying sessions. These will surely make the races more exciting.

Giancarlo Fisichella of Mild Seven Renault Team won the Australian Grand Prix, followed by Ferrari's Reubens Barichello and Renault temamate, Fernando Alonso. Michael Schumacher was forced to stop his race because of a collision with Williams-BMW's Nick Heidfeld, with just 15 laps to go. My favorite, West McLaren-Mercedes driver, Kimi Raikkonen was only 8th. It was alright though, coz he started the race from the pitstop (his car stalled after the warm-up lap), and finished 8th, getting the last point.

There will be 19th races this year, happening every two weeks, the next at Sepang, Malaysia. Hopefully, Kimi will have a better season and win more races.