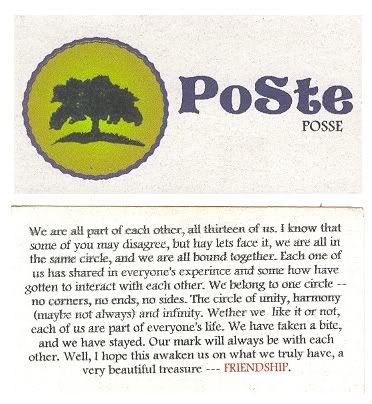 I was deleting files from the mypictures folder when I saw the picture above. Aimee emailed it about a month ago, along with several pictures we had in high school and college, where everyone looked so innocent (?!). This picture put me on reminiscing mode again, which is kinda fitting coz I will see them this Saturday. YaaaY!

-----------------------
I was bloghopping and several of my blog friends have commented about all the hoopla surrounding Jasmine Trias' visit to Manila, and I agree with them whole-heartedly. Over exposure talaga! Yes, I cheered her on when she was on American Idol season three, along with another Pinay, Camille Velasco. But frankly, the attention she's getting is too much. Jas-mania, as others have said.
I am sick and tired of seeing her face on tv, plastered on the newspapers, and even the welcome banners she has along EDSA. I cannot turn my tv on, without seeing her Smart, McDonald's & herbench commercials (o free plugging pa yan, ha).
What is it with Pinoys getting so starstruck? Which reminds me, umpisa ngayon ng Starstruck at Star Circle Quest. Bwahahahahaha!
What irks me about the Jas-mania, is that she hasn't been vocal about being Pinoy before and it's only now that it was acknowleged. On American Idol, she had portrayed herself to be a Hawaiian with a mix of Chinese, Spanish, Filipino & Malay blood. Sure she was born in Hawaii, which makes her an American, but let's face it, her grandparents and her parents are pure Pinoys. Isang tingin mo lang naman sa kanila, alam mong Pinoy talaga.
On a recent TVPatrol interview, Jasmine said she was surprised that she was very popular in a country she doesn't know anything about. I felt sad when she said that. Didn't her grandparents and her parents tell her anything about our country? Yan ang hirap sa ibang Pinoy eh, nakatungtong lang sa ibang bansa, nakalimutan na kung saan nanggaling. And for the record, liking sinigang or any other Pinoy food, does not make one Filipino.
Don't get me wrong, I'm not mad at her, nakakapanghinayang lang na wala shang alam sa Pilipinas. But hey, maybe this visit would make her realize how beautiful our country is and how wonderful the people are, even if we do have lots of problems.