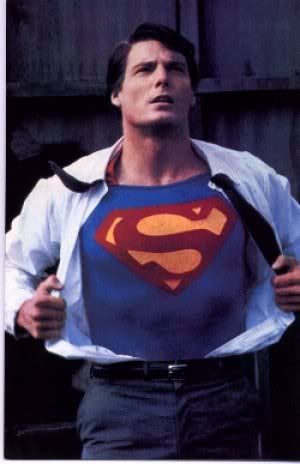 Yahoo! News - "Superman" Christopher Reeve Dies

My childhood hero died last Sunday. :(

Since I was a kid, I have always loved Superman. And there was only one Superman for me - Christopher Reeve. It didn't matter that there were Supermans before him, for me he was the only one.

I have lost count how many times I've watched Superman: The Movie & Superman 2 (my favorite). I, however, thought Superman 3 & 4 were corny.

When Christopher Reeve was paralyzed after a horseback riding accident in 1995 and he survived against all odds, I thought that he was a real life Superman.

Basta, favorite ko sha.
Goodbye Superman, Godspeed.

Here's a tribute to Chris Reeve, written by a fan.

---------------------
I didn't know Rio Diaz Cojuangco personally, but I was saddened by her death. She served as me and my mom's inspirations, because of her faith in the Lord, even when she was diagnosed with cancer. We could relate to her situation and her triumphs and setbacks became ours.

Her death is a mixture of happiness and sadness. Happiness because she's at peace with the Lord now, and she's not in pain anymore. Sadness because she's gone.

I wish her family well.